Country with the Most Castles
Castles, castles, which country has the most castles? You'll likely be surprised at the answer.
Wales, a country on the western edge of England, has more castles than any other in the United Kingdom! Total castle numbers vary from over 500 to 641, depending on who you talk with, but either way, you won't have to drive far between castles!
Wales, the Castle Capital of the World – Top Castles to See
---
Ruthin Castle


Located in the charming medieval market town of Ruthin, you can stay in the 'Red Fort,' and even take part in a Medieval Banquet. The only Edward I castle in Wales where guests can stay overnight, the castle sits on the location of a wooden fort where King Arthur is said to have visited frequently.
---
Cardigan Castle


Cardigan Castle is a castle overlooking the River Teifi in Cardigan, Ceredigion, Wales. It is a Grade I listed building. The castle dates from the late 11th-century, though was rebuilt in 1244. Castle Green House was built inside the castle walls in the early 1800s.
---
Caerphilly Castle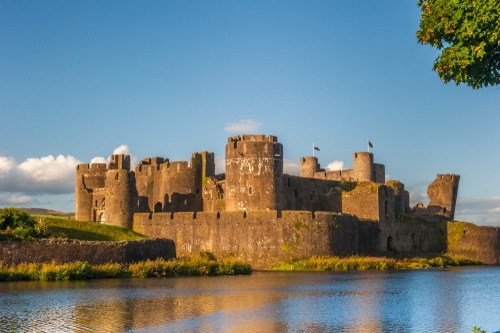 Readers of Wales Online voted Caerphilly Castle the best in Wales. The largest castle in Wales, Caerphilly is surrounded by purpose built defensive lakes and considered one of the best medieval castles in Europe.
---
Caernarfon Castle


Famous for its ornamentation, many towers, and curtain walls built of colored stone, this northwestern castle is called the most impressive castle built by Edward I. In 1969, Caernafon Castle was the site of the investiture of Charles, Prince of Wales.
---
Raglan Castle


One of the last medieval castles to be built in Wales, Raglan Castle was built for comfort and showmanship rather than defense. The boyhood home of Henry Tudor, Later King Henry VII, Raglan Castle had a reputation for entertainment which continues to this day as the castle regularly hosts poetry reading, plays, singing, and dancing.
---
Conwy Castle


A World Heritage Site, Conway Castle is so well intact that nearly all of the castle is accessible to visitors. The town of Conwy, with its medieval walls and simple streets, will transport you back to the 13th century.
---
Harlech Castle


Rising, seemingly from the cliffs above the Irish Sea, Harlech Castle may be one of the most dramatic in Wales. Another World Heritage Site, Harlech Castle is linked to the tragic heroine of Branwen in Welsh mythology, a decade-long siege during the 'War of the Roses,' and was one of the last Royalist holdouts to fall to Cromwell.
---
Pembroke Castle


Built over a natural cavern, this massive stone fortress, begun by William Marshall in the late 1200's, remains impressively intact. The birthplace of Henry VII, the castle has the distinction of having never fallen to the Welsh.
---
Carreg Cennen


Wales' "most romantic ruin" lies on the western edge of Brecon Beacons National Park. Located on a craggy hilltop, archeological evidence points to Iron Age Man and Roman occupancy long before a castle was built here. Once owned by Henry of Bolingbroke, later King Henry V, the castle ruins are now privately owned and can be visited 364 days a year.
---
Castell Dinas Bran


The only castle on this list built for a Welsh prince and not Norman occupancy, the ruins of Castell Dinas Bran, built in the mid-1200's, sit high above the Dee Valley. Accessible only after a rugged, but well-marked, climb, the views of the valley from the castle are astounding.
---